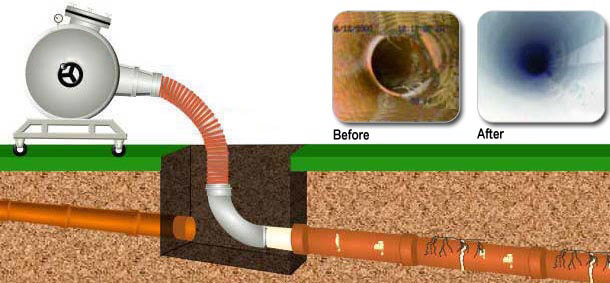 SewerTechs takes pride in serving clients in or around Washington and Oregon. We ensure efficient, affordable, and minimally invasive solutions for different project needs. Our team understands that not everyone has access to trenchless technology, which is why we are always here to help!  
CONTRACTORS
At SewerTechs we believe in partnering instead of competing, let's complement each other's business. If you're tired of dealing with inexperienced and/or unprofessional sewer contractors, you're in the right place. SewerTechs is the ideal sewer line partner for all your projects.
We get it – running your own business and managing your teams is more than a full-time job. The last thing you need is to worry about your partners and the quality of their work. That is why we assist plumbers, contractors, and excavating companies in providing trenchless solutions to address their clients' needs.
Our team has the knowledge and experience to get the job done right every time – and on time. We've seen every kind of job out there, and have experience with new construction, retrofits, and commercial – big and small!
We've worked with dozens of contractors, builders, excavators (including other sewer contractors), and more. We are looking for additional reliable partners to work with long-term. We are a registered side-sewer contractor and can line all of your sewer jobs, so you can stick to your specialty. We also provide a wide range of solutions for clearing sewer lines, including specialty cutters for CIPP projects.
REALTORS
At SewerTechs, we understand time is of the essence in the realty business. That is why we've developed the industry's leading streamlined sewer inspection process while also ensuring the job is done right at the right cost.
As a realtor, you have enough to worry about when it comes to closing deals for your clients. The last thing you need is the stress of finding a reliable sewer company that knows how to get the job done quickly. We specialize in all-things-sewer so you and your clients don't have to!
Our rapid sewer inspection process and reporting allow you to focus on what you do best – serving your clients. Our team of trained professionals will perform a true and accurate assessment of your client's sewer lines. Upon completion of the assessment, you will be provided with a SewerTechs™ Detail Report as well as an online posting of the video inspection.
Why Sewer Inspections are Important in Real Estate Transactions
Sewer inspections are important to both buyers and sellers.
We believe a seller should be fully informed as to the state of their sewer when they are selling a home. It is better to know if there is an issue and an idea of the cost to repair it. This way, the seller can be prepared when the buyer does their own inspection, finds an issue, and comes looking for a discounted sale price.
From a buyer standpoint, the sewer is one of the areas where the term "buyer beware" becomes a real concern. Selling agents should demand a sewer inspection, regardless of the age of the home. If any issues are found, it could cost thousands of dollars to repair and those issues need to be addressed before the final deal is closed.
Contact SewerTechs Today
SewerTechs proudly serves plumbers, contractors, excavating companies, and realtors in Washington State, Oregon State, and nearby areas. Give us a call or fill out the online form today and let's talk about how we can serve you!


SewerTechs is the company to turn to when you want a true trenchless service provider that is going to be there for you from start to finish. Whenever we start a project, we definitely finish it – and do so in an efficient and affordable way. Contact us today to make our professionals part of your team. Feel free to call us or fill out the online form to schedule an appointment for a trenchless service you need. We look forward to providing you with exceptional and minimally invasive solutions.