A Full Suite of Reliable Services That Exceed Standards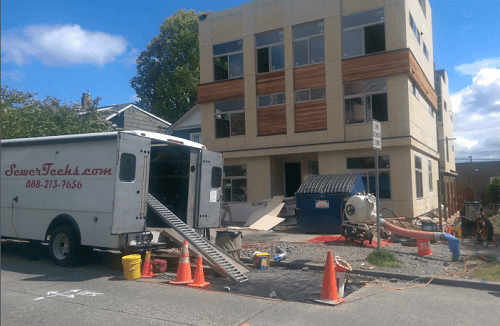 Work with the SewerTechs team to help you with the commercial sewer restoration and replacement services we provide. We will be there to inspect it, jet it, and line it so you can forget it! Veteran-owned, we are a client-centered company that partners with plumbers, contractors, excavating companies, and similar clients looking to have access to state-of-the-art technology and innovative solutions.
Since 2010, we have been making trenchless technology accessible and affordable for our valued clients.
Licensed as general contractors in Washington and Oregon, SewerTechs is equally pleased to be certified by Perma Liner and Easy Liner for installations and training. We make the process of pipe repair, installation, and replacement less disruptive and more affordable for our clients by staying current with technology and finding ways to streamline processes whenever possible.
Take a look at the top-notch services we specialize in:
In-Depth Camera Inspections
In order to make the most appropriate service recommendations for our clients in Washington and Oregon, we start most projects with a CCTV or camera-based inspection. This provides us a non-intrusive way to identify problem areas in pipes with real-time images, locations and depth. Camera inspections can be safely and conveniently performed on all types of sewer and drain lines.
Environmentally friendly Hydro and Pipe Jetting
Pressurized water is an excellent way to clear away tree roots, pipe scale, and other stubborn debris in pipes. This, in a nutshell, is what hydro jetting accomplishes, with some added help from a rapidly rotating nozzle driven by the force of the water. We often use hydro or pipe jetting to prepare pipes for trenchless repair.
Efficient Trenchless Sewer Repair
SewerTechs takes pride in implementing a no-dig approach to sewer repair known as pipe lining(CIPP). This is a landscape-sparing process done by inserting a resin-saturated liner into a damaged pipe to restore it internally. If pipe lining isn't a suitable solution, we may recommend pipe bursting, which is done by replacing the original pipe with a new one, but still in a minimally invasive way.
Partner With Us
As the tools, training, and experience needed for trenchless sewer technology are not readily available for everyone, SewerTechs is the company that you can always rely on to get the job done. We are prepared to jump in at any time whenever we are needed. This can be especially beneficial for plumbers or contractors wishing to offer minimally invasive options without having to do this type of work internally as well as in larger projects that require expert assistance.
In addition to 10% discounts for seniors and veteran-owned businesses, we provide our clients with:
Cost-effective solutions that save time and money

Transparent, fair pricing

Innovative solutions such as trenchless sewer patching for times when lining and bursting aren't viable options

Free estimates
Reach Out to Our Experienced Team Today
From trenchless solutions involving hospitals, homes, and schools to new construction projects, no job is too small or too challenging for SewerTechs. Thanks to the wide range of trenchless options we offer, you can expect our team to have a solution that is right for your project's needs. Contact SewerTechs today to learn more about our services or to schedule a consultation.We serve clients all over Washington and the greater Portland/Salem areas of Oregon, including, but not limited to:
Fife, WA

Federal Way, WA

King County, WA

Pierce County, WA

Thurston County, WA
Seattle, WA

Tacoma, WA

Olympia, WA

Renton, WA

Kent, WA
Lakewood, WA

Portland, OR

Gresham, OR

Beaverton, OR

Eugene, OR
Salem, OR

Wilsonville, OR

Woodburn, OG

Sherwood, OR

Hillsboro, OR


SewerTechs is the company to turn to when you want a true trenchless service provider that is going to be there for you from start to finish. Whenever we start a project, we definitely finish it – and do so in an efficient and affordable way. Contact us today to make our professionals part of your team. Feel free to call us or fill out the online form to schedule an appointment for a trenchless service you need. We look forward to providing you with exceptional and minimally invasive solutions.