Our In-Depth Camera Inspections

Get clear answers and customized solutions through the camera inspections conducted by the seasoned pros from SewerTechs. We provide in-depth inspections using state-of-the-art equipment for contractors, plumbers, excavators, and other commercial clients throughout Washington State and Oregon.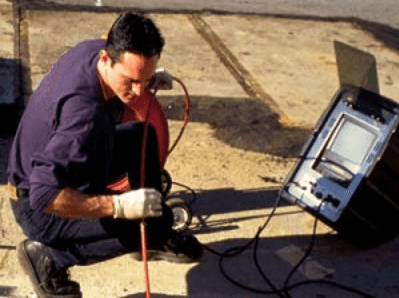 Importance of Camera Inspections
Camera inspections are important because a lot of things can be going on within pipes that you are not aware of. Instead of resorting to exploratory excavation, give our team a call to get answers you can see for yourself. We use existing access points to insert a flexible push camera through the access point (cleanout) into the line that needs evaluating.
As we manipulate the camera through the pipe, the monitor will display real-time images. We record every inspection with footage for reference and review.  SewerTechs takes the time to locate any issues and connecting pipes, along with identifying the depth and surface location, so an accurate estimate can be provided if required.
Main Advantages
For starters, camera inspections are affordable and highly informative. Inspections performed this way also allow us to view and inspect the entire run of the line. Additionally, since the inspection process is generally quick and easy, it can be done as an initial step when making project plans and after the work is done to check the results.
What We Check for During Inspections
With any camera inspection, we look for anything out of the ordinary. Whenever we are preparing for sewer line repairs, we'll also look at the extent of the damage so we can recommend the most appropriate trenchless option. Issues we typically look for include:
Tree/shrub root intrusions

Pipe joint misalignment

Scale and other materials along pipe walls
Cracks, fractures, and other types of structural damage

Water gathering in a pipe where it's not supposed to be
When a Camera Inspection Is Advisable
For our commercial clients, we recommend having a camera inspection done at the start of any project involving sewer lines. Camera inspections are also necessary if sewer pipes are causing drains to back up, drain slowly, or emit foul odors. We may also recommend inspections in order to:
Document problem areas

Look for potential issues that should be addressed sooner rather than later

Determine if a pipe is stable enough to use hydro jetting

Prior to purchase of property to determine costs for negotiating purchase price and project budgets.
Choose SewerTechs
We are a client-focused business that's been building lasting customer relationships since 2010. Partnering with us means you expect reasonable rates, top-quality results, and access to a wide range of cost-effective trenchless solutions. Many of our satisfied clients also choose us for the following reasons:
We offer free estimates

We are licensed general contractors in both Washington and Oregon

We offer 10% discounts for veteran-owned businesses and seniors

We are certified by Perma Liner and Easy Liner for installations and training

We avoid change orders by providing accurate assessments up front

We never walk off a job once we start
Get in Touch With Us for an Inspection
At SewerTechs, we help our clients inspect it, jet it, line it, and forget it by providing a broad range of minimally disruptive services and solutions. Our camera inspections can be done for standalone purposes or as part of an assortment of commercial projects, including ones involving homes, hospitals and other facilities, and new construction. Contact our team today to schedule a camera inspection.


SewerTechs is the company to turn to when you want a true trenchless service provider that is going to be there for you from start to finish. Whenever we start a project, we definitely finish it – and do so in an efficient and affordable way. Contact us today to make our professionals part of your team. Feel free to call us or fill out the online form to schedule an appointment for a trenchless service you need. We look forward to providing you with exceptional and minimally invasive solutions.